Internet Tips and Tricks
11 Virtual Thanksgiving Ideas to Stay Connected During the Holidays
Have you ever found yourself suddenly realizing that Thanksgiving is just around the corner and wondering how on earth you're going to celebrate it virtually? You're not alone! As the festive season approaches, many of us are grappling with celebrating Thanksgiving in a way that's a little different from what we're used to.  
In this guide, we're embracing the spirit of Thanksgiving with a twist – by staying connected and creating unforgettable experiences, regardless of the physical distance. Whether you're miles apart or just prefer the comfort of your own home, we'll show you how to keep the essence of Thanksgiving alive. Let's dive in and explore some innovative ways to celebrate this special holiday virtually!
1. Virtual Potluck & Recipe Sharing
Who said you can't have a feast just because you're not in the same room? Organizing a virtual potluck is a fantastic way to share the joy of cooking and eating together. Here's how it works: each participant prepares a dish of their choice and presents it during a video call. But it's not just about showing off your culinary skills – it's about sharing the heartwarming stories and family traditions that come with each recipe. 
Encourage your family and friends to delve into their recipe books and bring a dish with a special meaning or story. Share these recipes and stories during the call, and you'll find that the warmth and love in these dishes transcend the screens, creating a sense of togetherness that's just as strong as if you were physically together.
2. Thanksgiving Themed Online Quiz
Ready to test your Thanksgiving knowledge and have some fun? Why not spice up your virtual gathering with an interactive Thanksgiving-themed quiz! It's a delightful way to engage everyone in some friendly competition and learn more about Thanksgiving in a fun way.  
You can create a quiz with questions ranging from historical facts about Thanksgiving to fun trivia about the holiday's popular dishes and customs. Use online platforms like Kahoot or Typeform (if you want to make your own) to make it easy for everyone to participate.
3. "Show and Tell" Gratitude Session
Ever wondered what Thanksgiving is truly about? It's all about gratitude, and what better way to express this than a "Show and Tell" session. Invite each participant to share something they're particularly thankful for this year. It could be an object, a photo, or a short story. This activity is a heartwarming way to reflect on the year's positives and connect with your loved ones on a deeper level.  
Imagine your aunt showing off the handmade scarf she received from her granddaughter or your cousin sharing a story about the new friend who helped him through a tough time. These shared moments of gratitude can be incredibly moving and remind us of the true essence of Thanksgiving. It's about appreciating the big and small things in our lives and sharing that appreciation with the people we love.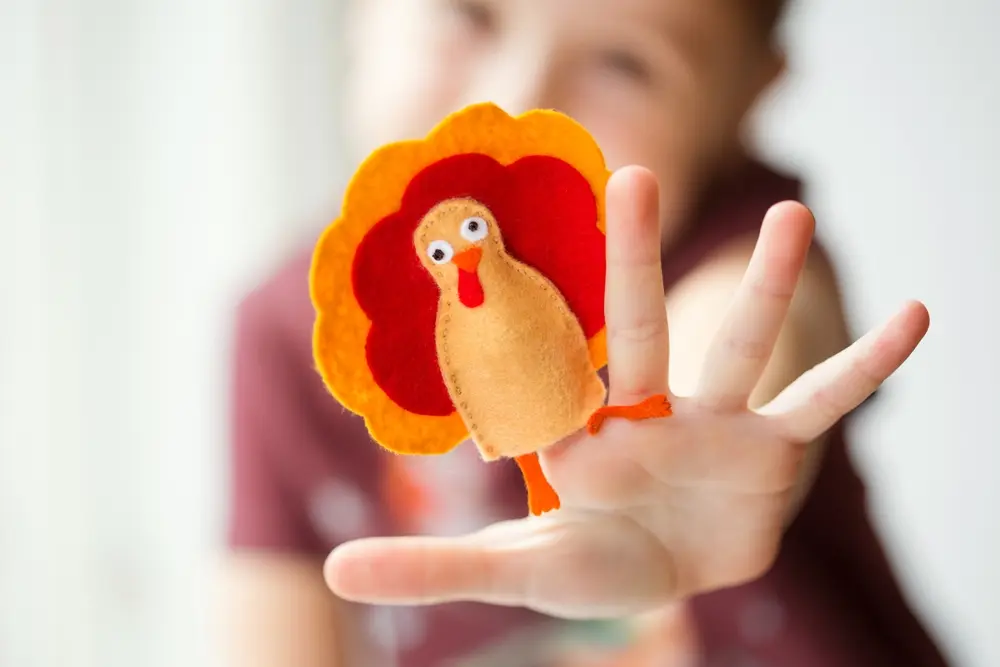 4. Virtual Craft Workshop
A virtual craft workshop is perfect for families, especially those with kids, to bond and get into the festive spirit.  Host an online session focused on creating Thanksgiving-themed crafts like festive decorations or handmade thank-you cards. 
Before the workshop, share a list of materials needed for the crafts. From making paper turkeys to autumn leaf garlands, the possibilities are endless.  
5. Storytelling Hour
Ever wondered what the holidays were like when your grandparents were young? Here's a chance to find out with a storytelling hour. This virtual Thanksgiving idea is especially endearing as it allows family members, particularly the elders, to share stories or experiences from past Thanksgivings. 
Encourage everyone to share their fondest Thanksgiving memories, traditions they remember, or even funny incidents from previous celebrations. It's a beautiful way to connect generations and learn more about your family's history. 
6. Thanksgiving Movie or Documentary Watch Party
Why not bring the cinema to your living room this Thanksgiving? Hosting a virtual watch party with a Thanksgiving-themed movie or documentary is a fantastic way to unwind and enjoy some quality time together. The key here is a reliable internet connection that can handle streaming without buffering issues so everyone can enjoy and comment on the movie. 
Create a list of movie options and have your family vote on what to watch. You can use streaming services that offer watch party features, allowing synchronized viewing and chatting. Don't forget the popcorn!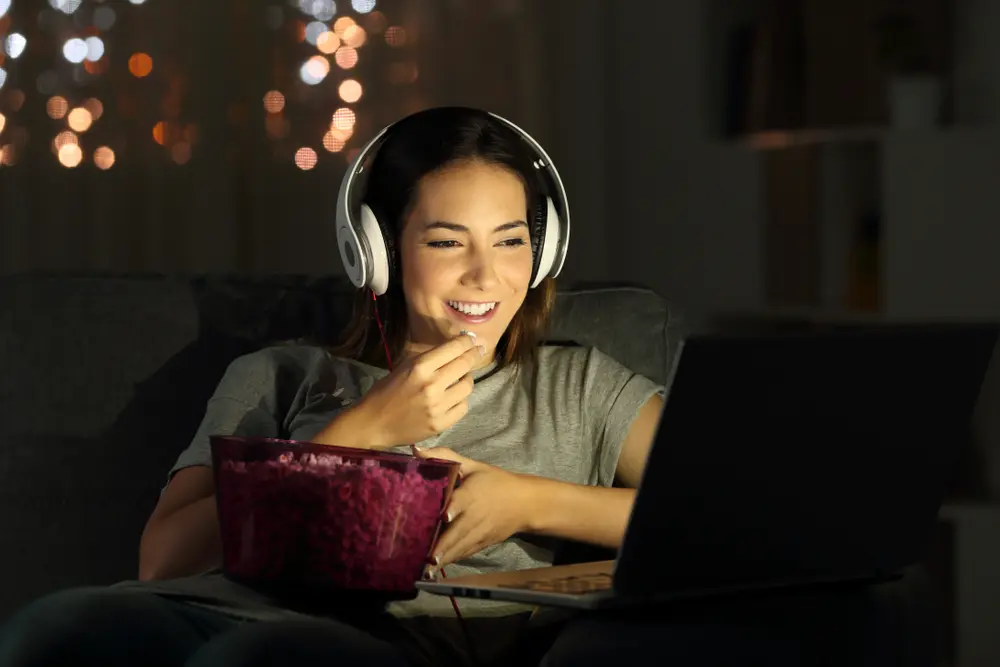 7. Online Game Night with Thanksgiving Themes
An online game night is one of the most exciting virtual Thanksgiving ideas. With many online games and apps, you can easily organize a game night incorporating Thanksgiving themes or trivia. The options are endless, from online board games to Thanksgiving-themed Pictionary or charades. 
And finally, to take the fun to the next level, encourage everyone to get into the spirit by dressing up in Thanksgiving-themed attire or backgrounds.
8. Interactive Gratitude Map
Ever thought about mapping your blessings? Here's a unique virtual Thanksgiving idea: create an online Interactive Gratitude Map. This engaging activity allows family members to pin locations on a digital map and share stories or reasons they're thankful for those places. It could be a memorable family vacation spot, a hometown, or even a place where a significant life event occurred. 
This activity not only fosters a sense of gratitude but also helps family members learn more about each other's cherished memories and experiences. You can use platforms like Google My Maps.
9. Thanksgiving Playlist Exchange
Music brings people together, so why not incorporate a Thanksgiving Playlist Exchange into your celebration? Encourage your family and friends to share their favorite Thanksgiving or autumn-themed playlists.  
Then, you can play them in the background during your Thanksgiving Day or Christmas, creating a perfect soundtrack to your celebrations.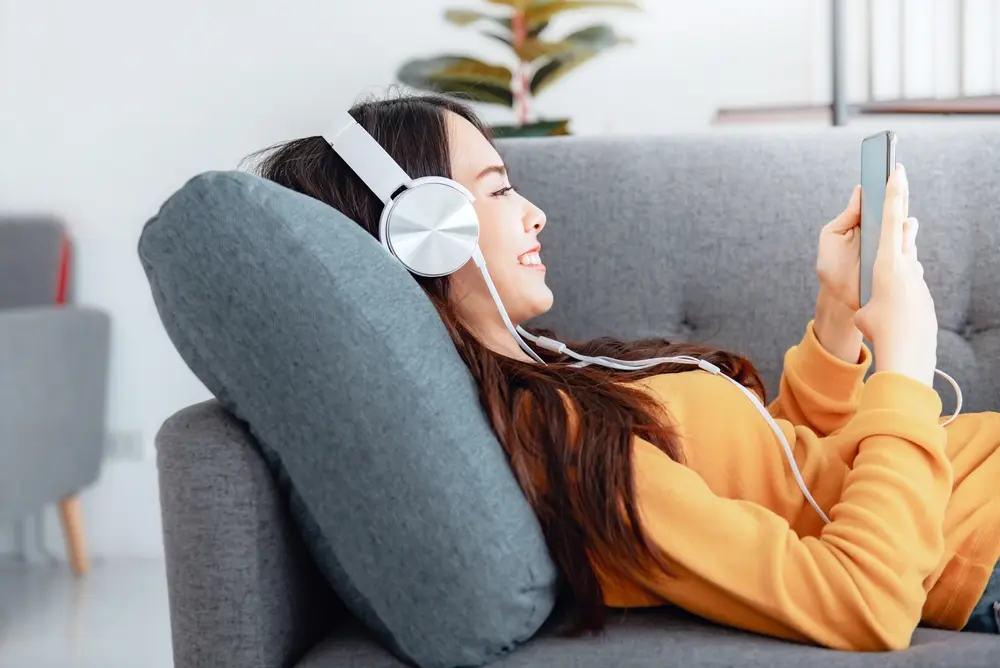 10. Virtual Volunteerism Discussion
How about giving back this Thanksgiving? In the spirit of gratitude and giving, dedicate a segment of your virtual gathering to discuss and plan virtual volunteering or charity work. This could be one of the most fulfilling virtual Thanksgiving ideas, allowing you and your family to make a difference from the comfort of your homes. 
Discuss various online volunteering opportunities, such as virtual tutoring, writing letters to those in need, or fundraising for a cause close to your heart.  
11. Digital Scrapbooking
Ready to stroll down memory lane? Creating a digital scrapbook of special moments is a wonderful way to relive and share memories. Encourage family members to dig out old photos and stories and use digital scrapbooking tools to compile these memories into a beautiful digital format. 
For this activity, platforms like Canva or Mixbook are excellent choices. Canva offers a user-friendly interface with a wide range of templates, making it ideal for beginners. Mixbook has a variety of themes and is perfect for creating a polished, professional-looking scrapbook. 
A stable internet connection with good upload speed is crucial for uploading photos and collaborating on the scrapbook in real-time. Once completed, this digital scrapbook can be shared and cherished by everyone in the family. 
Virtual Thanksgiving Ideas: Final Thoughts
As we've explored these virtual Thanksgiving ideas, it's clear that distance doesn't have to diminish the warmth and joy of this special holiday. From sharing recipes and stories to crafting and playing games, each activity brings us closer, bridging any physical gap with laughter, love, and gratitude. 
In these times, where we are more reliant on virtual connections than ever, one thing is crucial – a reliable internet connection. This is where fiber internet comes into play. With its superior speed and stability, fiber internet makes sure your virtual Thanksgiving activities go smoothly, without the frustration of lagging video calls or interrupted streaming.  
So, ready to elevate your virtual Thanksgiving experience? Visit our 'Order Now' page to secure your fiber internet connection from Race Communications. Let us be your partner in ensuring every moment of connection is as special as it should be.