News
Your Guide to Race CommandIQ App
As we grow more dependent on the internet, the responsibility of ISPs extends far beyond providing internet services. Subscribers also need adequate online security and more autonomy in their home network management. 
That's why at Race, we recently launched a comprehensive new product that puts our subscribers back in charge of their home networks: the Race CommandIQ app.  
Race CommandIQ gives users complete control over their home networks. You can create profiles for people and places in your homes, set up guest networks, and keep your homes safe in partnership with some of the best online safety and security providers, including Bark and Arlo. 
The two major components of Race CommandIQ are ExperienceIQ and ProtectIQ, which empower our subscribers with extensive features, including parental controls, security alerts, network usage monitoring, and device lists. 
In this guide, we'll walk you through the entire process of setting up our mobile app, from downloading it to setting up user profiles and activating parental controls.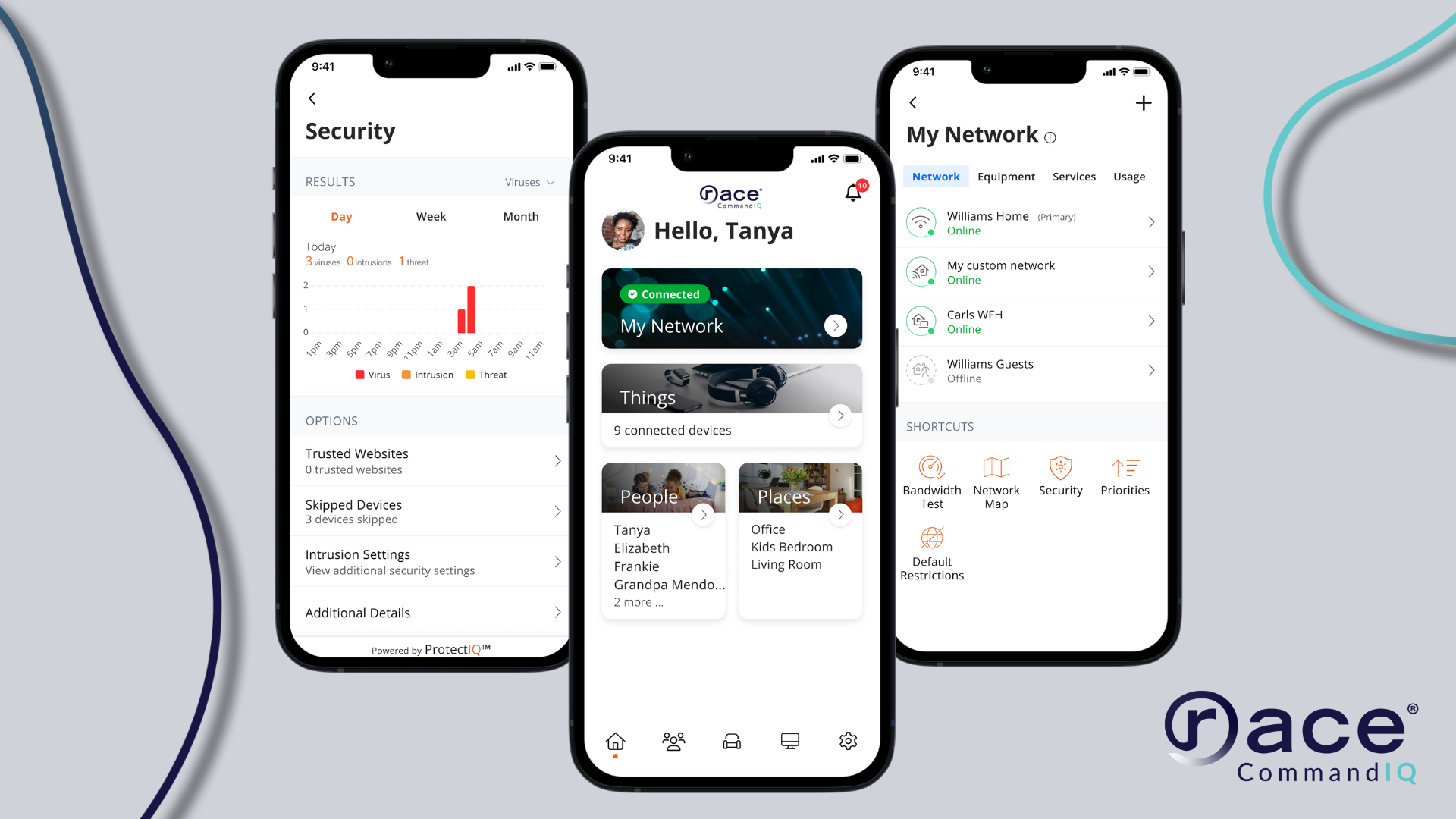 Race CommandIQ Setup
Thanks to its intuitive and seamless UX, you'll get Race CommandIQ up and running in no time. Follow these four steps to get started: 
Download the app on the Google Play store or Apple App Store

 

Enter your basic personal information (first name, last name, email, password)

 

Scan the QR code on your router to connect your home network to the app

If you haven't yet, choose a name for your WiFi network and a strong password

 
Once you complete the setup, you'll be redirected to the app's main dashboard. The dashboard is the first thing you'll see when you open the app. 
Main Dashboard
The Race CommandIQ dashboard gives you an overview of your household: connected devices, user profiles, and WiFi settings. 
You'll see four main sections: 
My Network

 

Things

 

People

 

Places

 
The Main Dashboard is your starting point whether you're trying to get data insights into your network usage, devices, settings, or restrictions. Below, we explore how to use each of the four main sections.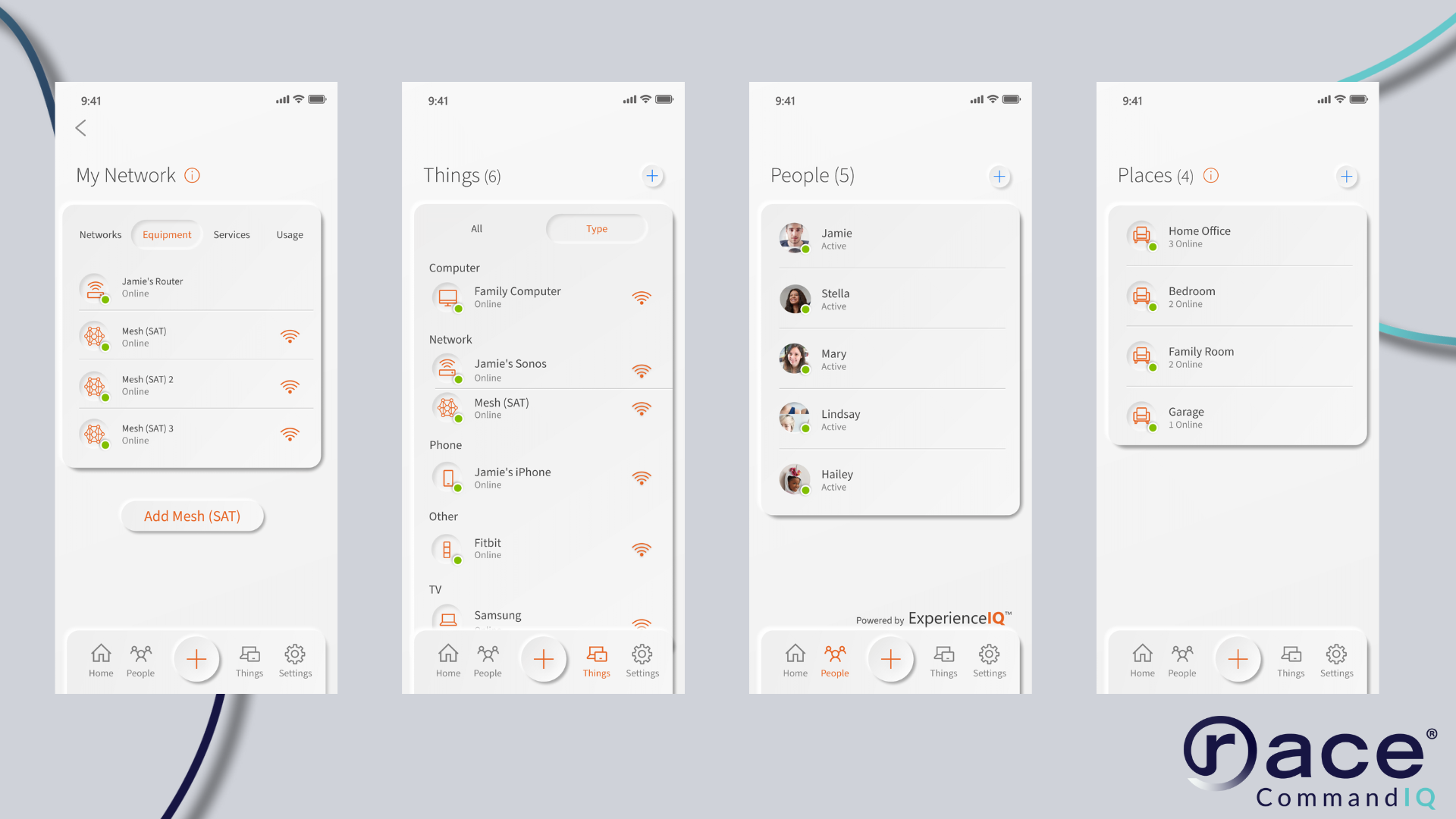 My Network
My Network offers a 360 view of all the connected devices and how you want to distribute your bandwidth. 
Access your WiFi network settings

 

Run a bandwidth test: see download speed, upload speed, and ping)

 

View all connected devices (including their usage and whether they're online)

 

Create a guest network (keep your main WiFi network safe and private)

 

Set network priorities (prioritize specific devices over others

,

so bandwidth goes where you need it most)

 
Things
The 'Things' section gives you an overview of devices connected to your network, such as your household's smartphones, tablets, smart home devices, and computers. In addition, you can get data insights into signal strength and internet usage. 
People
Since devices belong to people and most people have more than one device, 'People' allows you to connect the devices to separate user profiles, such as yourself, your partner, your child, and other people you share your home network with. 
This feature allows you to set different parental controls, content filters, and time limits for each user. 
Places
'Places' allows you to optimize your WiFi performance by turning off internet access in rooms that don't need WiFi at that moment. For example, if you don't need internet access in your office after you're done with work for the day, you can turn it off and therefore improve the internet in other parts of your home. 
Race CommandIQ Features & Benefits
Aside from the dashboard features, you will find two key features designed to help control your network with just a few clicks, ExperienceIQ and ProtectIQ. 
ExperienceIQ

empowers you with extensive features including parental controls, guest networks, network usage monitoring, and device lists. 

 

ProtectIQ

proactively monitors your network and provides security monitoring services, virus protection, prevents intrusion, and blocks malicious websites.

 
Below, you can read more about how each can make managing your home network easier. 
ExperienceIQ 
Once you've created user profiles and assigned devices to them on the Main Dashboard, ExperienceIQ gives you access to enhanced parental controls and helps you set up priorities within your household. 
In partnership with Bark, one of the best parental control providers, our app helps you protect your children from cyberbullying and inappropriate content.  
Here are the main benefits of ExperienceIQ's parental controls: 
Screentime management:

set offline hours and time limits, and monitor the average time spent online per device

.

 

Content filtering & blocking:

restrict access to content blocks you don't want your child to see online, such as violence, weapons, nudity, etc., or blacklist certain websites and apps so children can't access them at all. Additionally, you can block access based on your child's age.

 

Location tracking:

receive notifications when your child arrives or leaves a certain location (school, home, friend's house, etc.)

 

Problematic behavior alerts:

get an alert if your child is subject to cyberbullying, online predators, or dangerous content

.

 

YouTube Restriction:

blocks all comments on videos which often include inappropriate language

.

 
Set up parental controls by going to 'Things' on the Main Dashboard and choosing the device you'd like to manage. 
Additionally, ExperienceIQ also assists you in setting up your Network Priorities. 
Navigate to 'Things' and choose any device to access 'Network Priority'. Network Priority helps you decide where most of your bandwidth goes, which reduces lagging and slow internet speeds. 
You can sort your priorities either by activities or devices. Additionally, you can set different preferences throughout the day. For example, your priority activity and device between 9 AM and 5 PM can be working from your desktop computer. In the evening, you can prioritize streaming services on your smart TV and your smart speakers.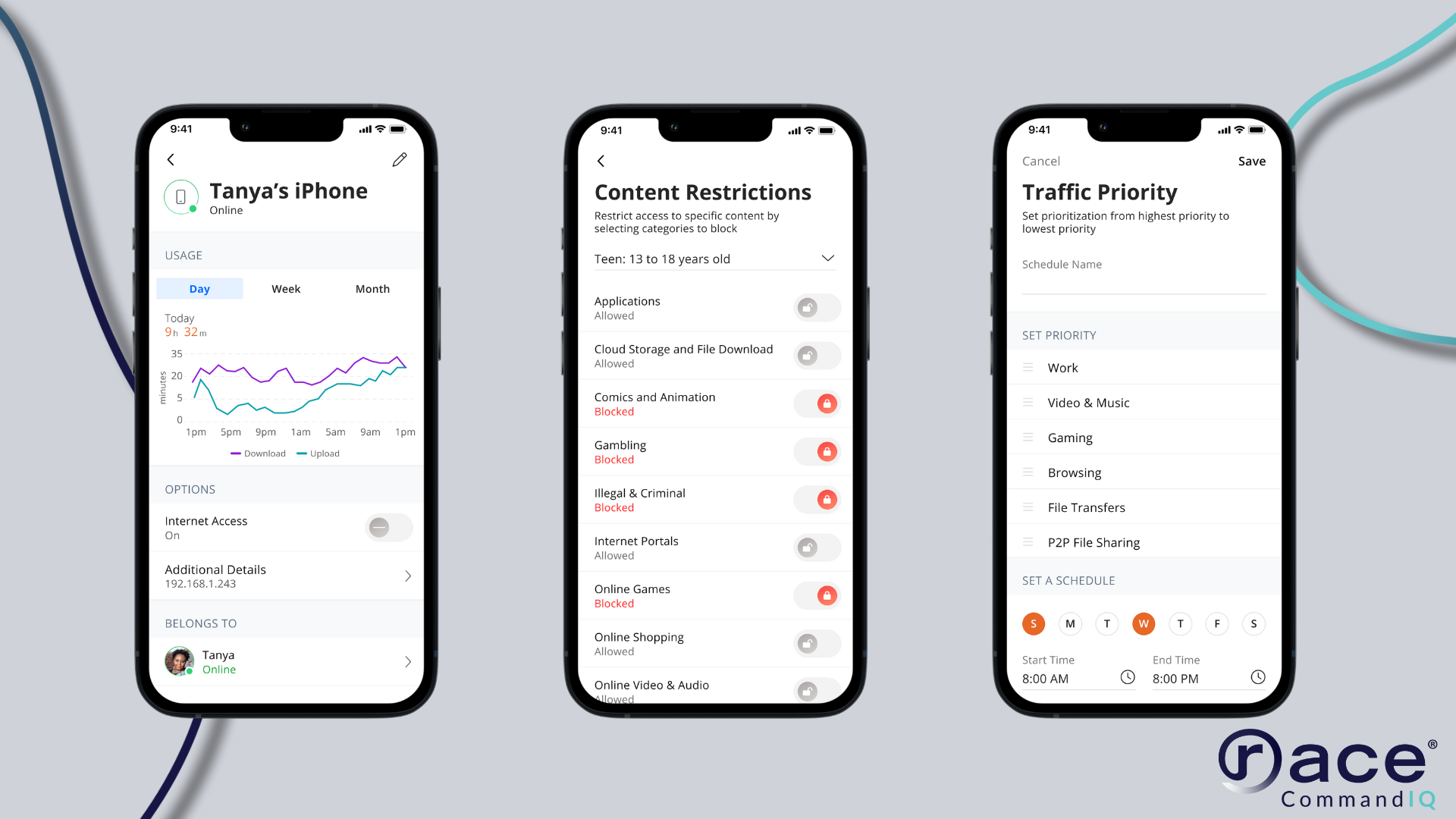 ProtectIQ
ProtectIQ is a Network Security feature that received the 2022 Global InfoSec Award for "Best in Anti-Phishing, Network Security, and Management." It automatically works in the background to provide an extra layer of protection against viruses, malware, and phishing attempts. Whenever ProtectIQ blocks a cyberattack, you get a notification, but you don't need to do anything else to stay safe.  
To get insights into the security of your network, select 'My Network' on the Main Dashboard and navigate towards 'Networks'. Under the 'Security' tab, you can see the latest security updates. Additionally, you can view: 
Trusted List

shows items you have selected as trusted in your notifications screen.

 

Skipped Devices

allows you to select devices to skip during security scans.

 

Intrusion Settings

allow you to provide an added layer of protection.

 

Additional Details

provides additional information

,

including packets analyzed and the total number of threats detected and blocked.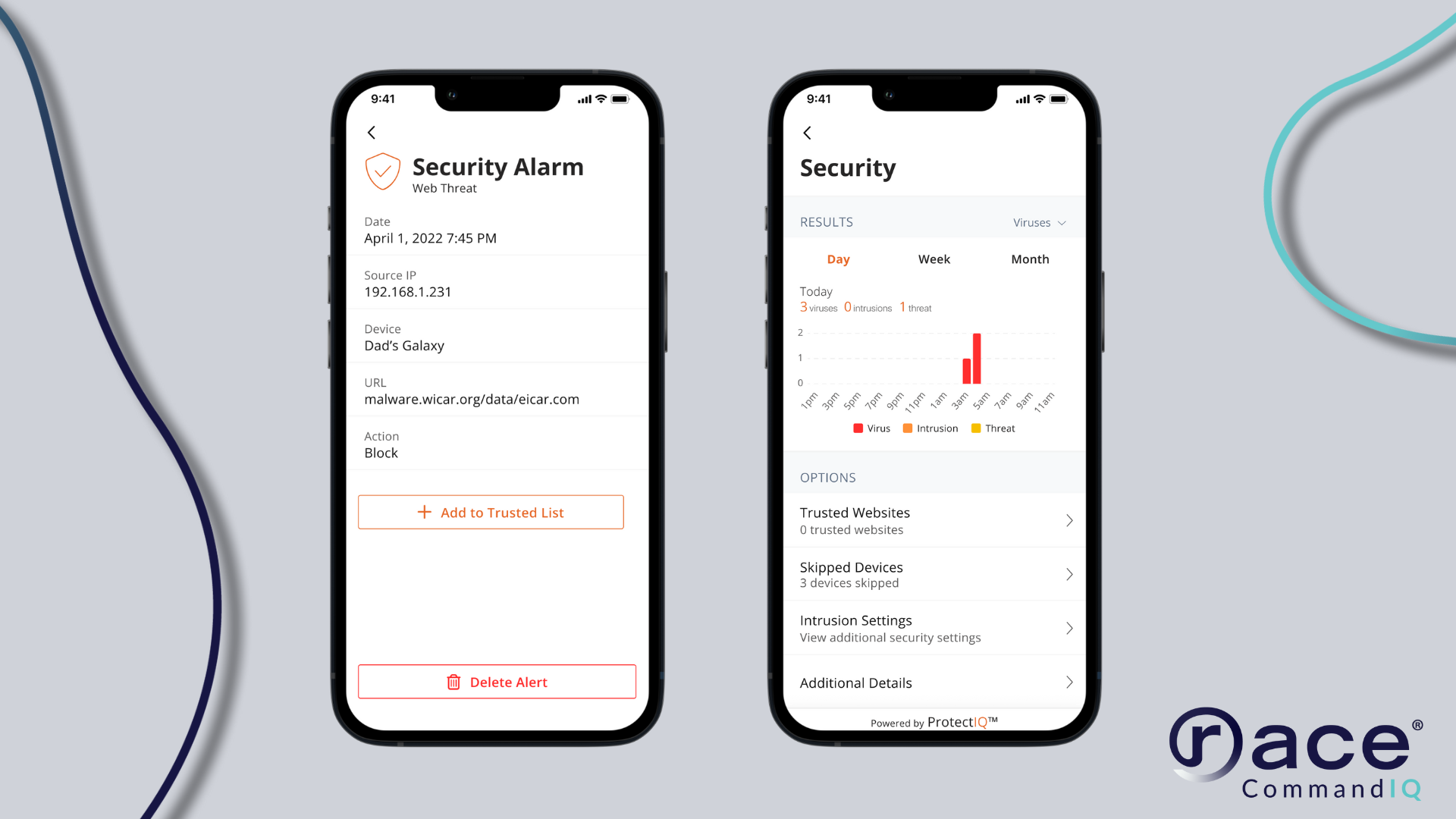 Conclusion: The Race CommandIQ Guide
There you have it: our guide to the Race CommandIQ app. If you're the sort of person who is always thinking about how to improve visibility into your home network or protect yourself against cyberattacks, this app is more than worth the download. Not only does it have great features that you can't get anywhere else, but it provides peace of mind when it comes to monitoring your home network. And the best part? It's available to Race subscribers free of charge. 
All that's left for you to do now is to head over to the Google Play store or Apple App Store and download the Race CommandIQ app. 
If you have any extra questions about our packages and services, reach out to us at 877-722-3833 or send us an inquiry. We're glad to help.