News
How the CASF is Bridging the Digital Divide
Since 2008 the California Public Utilities Commission has helped bridge the digital divide through the use of the California Advanced Services Fund (CASF). This fund has helped bring broadband to underserved and unserved communities throughout the state of California.
Since its inception, the program has funded a variety of broadband projects, including several fiber-based, gigabit projects like Gigafy Phelan. These projects aim to close the digital divide, and companies throughout the state continue to apply for further funding. In this article, we'll explore exactly what the CASF funds are, a brief history of the program, the types of grants available, and how Race uses them to bring high-speed quality internet to communities.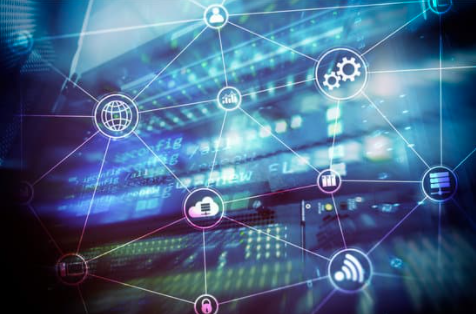 What is the California Advanced Services Fund? 
The California Advanced Services Fund (CASF) provides funding for the deployment of broadband infrastructure to areas of the state that are unserved or underserved. CASF aims to close the digital divide bringing broadband to 98% of households in each consortia region by December 31, 2022. And they are well on the way to achieving that goal. As of December 31, 2018, 97.1 percent of California households are in census blocks with access to broadband services reaching speeds of 6Mbps down and 1Mbs up or greater. 
Unserved areas are eligible for up to a 70% CASF matching grant. These grants are used for areas without high-speed internet access and often prioritize areas with rugged terrain, making infrastructure development costs too high for companies and investors to fund alone. 
Underserved areas are eligible for 60% CASF matching grants. These areas typically have broadband or internet services but at very slow speeds and do not perform well. The funds allow internet providers to increase speeds to at least 6 Megabits per second download and 1.5mbps upload.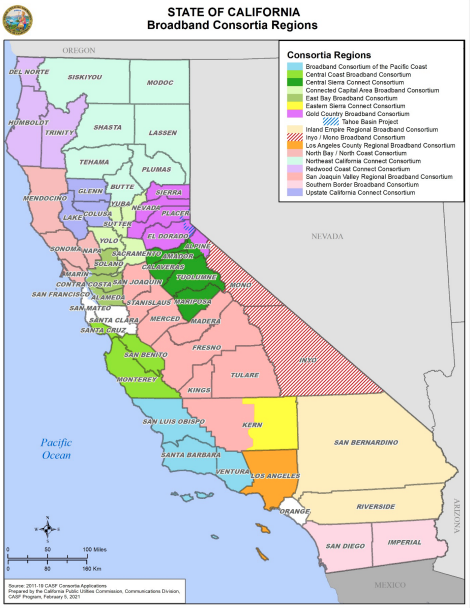 Above is a map of the consortia regions of the State of California. Source: 2020 Annual CASF Report
CASF: A Brief History 
In December 2007, the Commission authorized the CASF. The CASF provided grants to telecom corporations to bridge the digital divide and bring high-speed ethernet to California's unserved and underserved communities. Since then, the program has helped fund over 798 projects and awarded funds totaling over 300 million dollars. 
How Are the Grants Funded?
The CASF initially started as a 23 cents tax collected on phone bills. Currently, CSAF grants are funded by a surcharge rate from revenues collected by telecommunications carriers and remitted to the state.
Types of Grants Available 
Infrastructure, Loan, and Line-Extension Grant
Provides broadband access to households that are within the last miles of existing infrastructure. This includes the line extension program.
Rural and Regional Urban Consortia Grant 
The Rural and Regional Urban Consortia Grant funds the cost of broadband deployment activities. However, the grant doesn't support any capital costs of the facilities which the Commission determines. 
Tribal Assistance Program
Provides technical assistance in developing market studies, feasibility studies, and business plans which support tribal communities to improve communications. 
How Do You Get a CASF Grant? 
Telecommunication companies have to compete for these grants, and often the way to earn them is through finding the most cost-effective solution to bringing services. To maximize the grant, Race utilizes current and existing utilities and utility easements. This reduces the cost and allows us to create a more extensive infrastructure. For example, if the utilities are all above ground near your home, Race will utilize that existing infrastructure instead of trenching underground utilities to your home. On the other hand, if there are no existing utilities, building above-ground infrastructures is often the most cost-effective.
How Does Race Communications Use CASF? 
Race Communications has received California grants to cover up to 60 percent of construction costs, including the labor, equipment, and materials required to bring fiber or cable internet to a region. The percentage of funding is based on the needs of the area. This funding does not include operational costs (the expenses of day-to-day business).
CASF Key Takeaways: 
CASF grants were created to bring broadband internet to both unserved and underserved communities with the goal of 98% of households in each consortia region by 2022. 
Race Communications has received CASF grants which cover up to 60% of construction costs and utilize existing utilities to lower infrastructure costs. 
Grants are funded by a surcharge rate from revenues that are collected by telecommunications carriers and paid by the end-users.